As a Dance Studio Owner, you might be thinking makeover? UGH!
But not to worry not everything is going to cost you an arm and a leg.
Chances are, this may very well be the best time to consider it. Nothing makes your studio more inviting than putting in something new. New makes your customers happy. New make an impression on prospective customers. It makes everyone involved with your studio feel like you really care about them and that you take pride in your business.
Dance Studio Owners Try This:
I recommend that you have a couple of people who you know will give you an honest assessment come to your studio and give the place the once over without you following them around. Give them a small note book or pad and let them go at it. We had 4 fellow business owners we know do exactly that. In return for their time we gave them all a $25 Starbucks gift card. As it turns out they didn't want it. What they ended up wanting from us was to come to their businesses and do the same thing.
It is amazing what other people see that you and your team may miss. Little things that make a difference, because you never know who will see something that is a turnoff to their eye.    
Clean, clean and clean again. I am amazed at how many dance studios I have been in that are not very clean. If you can swing the expense, I recommend that you get a cleaning service to come in several times a week. You will need to give them explicit instructions on where to clean and what you expect. For example, going up ladders to clean higher ceiling areas like fans, vent work, light fixtures and pipes. 
You may want to have a cleaning service come in and give the entire studio a major cleaning. If you are looking to create a great smell throughout, I recommend you get air fresheners that hang on the front of your return vents of your HVAC system. They have many different scents and give the place an amazing smell that your customers will notice the minute they walk into your studio                        
Dance studio upgrades to consider:
New Paint Job: This one is relatively easy to do. Doesn't incur any down time and makes the place smell clean, fresh and new! Especially right now where optics are key. This will carry weight for new and current customers.
New Furniture: This can be a bit pricey if you go with something that has a great look to it. I recommend you do no get anything that is fabric covered. Go with the fake leather look so you can easily clean regularly each day.
Front Desk Area: This can be anything from redoing the counter top to that whole area around the front desk. New photos, splash of color on the wall and protective plexiglass are all great looks and will keep you, your staff and customers safe.
New Carpets or Common area Flooring: If you have carpets it may be that they just need to be steamed cleaned. We do this twice a year and it makes a BIG difference. We also have vinyl tiles in our lobby area and changing rooms. Have a crew come in to strip the floor and put a new finish on the floor it will make it look like new!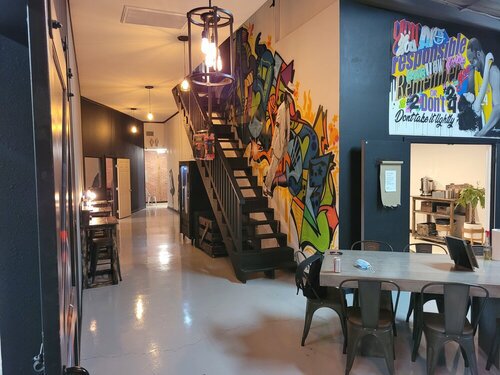 Exterior Touchups: You may be limited as to what you can do to the exterior of your building but a few simple eye-catching things can make you stand out. Get a new welcome mat this may seem simple but at the start of the new season this is a little thing that makes a BIG impact. Also, if you have the room how about adding a few planters on either side of the door with some colorful flowers in them. Does your sign outside need a cleaning? Are all of your exterior lights working? Remember to stand out from the rest little details will make a BIG difference.
New Dance Floors: Yes, this is the BIG expense but will create a WOW factor. We have just finished the process of putting in new floors in all three of our movement rooms (see image below to view one of our rooms). The students have been going wild when they have come in. New floors are also easier to keep clean, the seams are wielded together and they make the place smell great! There are a lot of very good dance floors out there but we decided to go with Harlequin and I can tell you their dance floors are amazing. Plus mention that you are a Dance Teacher Web member and receive special pricing! https://us.harlequinfloors.com/en/
So, there you have it. If you are looking to differentiate yourself from the competition why not do so visually. Let's face it, most parents don't really know the difference between good training and not so good. But they will notice a great looking place that has welcome messages that also looks clean and smells clean. They will very likely think that if you take such good care of your facility, you must be the best place in town and want to have their child study dance with you.