I have heard many self-proclaimed gurus say that to be a great dance teacher you need to teach beginners or young children's classes. And to this I say NON-SENSE!
I have had the privilege of teaching dance for over 34 years and before that I was a professional dancer for 13 years. I have had the opportunity to study with many great dance teachers and the number one thing they all had in common?
They are great people!
Everyone is going to have their own "wheelhouse" of what they love to teach. And to that I would say, run with it. Now, we all need to stretch ourselves and push the boundaries of what we like and know. That is, after all, how we are going to grow and find new movement and creative ideas. But if you love to teach beginners or recreational students, then that is what you should focus on. If you love to teach more advanced dancers, go for it, focus on that! Part of being a great dance teacher is knowing and understanding your own strengths and weaknesses.
"A man has to know his limitations" Clint Eastwood
I love that quote from the Clint Eastwood movie "Dirty Harry". Yes, we all need to know that. And there is no shame or minus in understanding what you are capable of doing well. Here is the key. No matter what level of student you teach, they always go first. Before your ego, style, ideas and choreography the student is the top priority. Now I know there are some dance teachers that do not believe in that or roll that way. They are caught up in their own style or technique and the student has to be able to do what they want. But I believe it is our responsibly as the teacher to teach! If the students are not getting it that is on us folks.
"If you don't look good, we don't look good!" Vidal Sassoon
Back in the 70's there was a big marketing campaign done by the then hair product giant Vidal Sassoon. This was his trademark slogan. Think about it, in teaching dance these words couldn't be any truer. How your students look in the classroom and up on stage is a reflection of you as a dance teacher. The good, the bad and the ugly! So, keep in mind it is your job to make them look good. So that may mean you have to make your routine a bit easier when it is time to showcase what your students have learned. I have personally changed my entire concept and routine because it wasn't working out with my students as I had envisioned.
A Great Dance Teacher Easy to Implement Check List…
1.     Always be prepared for your class. That means all technique you will be teaching and any movement or center work. This includes your music selection for each class.
2.     Try to call all of your students in every one of your classes by their first name. There is no sound that is sweeter or more exciting to a student than having you say their name. And not just to correct them.
3.     One size does not fit all. Some students will be auditory learners, some will be visual and others will be tactile learners. Knowing and understanding the difference in how your students learn will save you time and energy. And make the learning process more enjoyable for your students.
4.     Change it up! Don't get stuck doing the same warmup, center work or progressions. It will get stale for you and your students really quick. That also includes your music!
5.     Be open to changing any choreography you are creating. Keep in mind it is not always about your style or creative vision. It is about your students!
6.     Make learning fun! This may seem like a no brainer but I caution you to keep your bad moods or uneven energy at the door when you walk into the studio. It is, after all like a show. They want, expect and deserve your best.
7.     Mentor and guide your students but don't become friends. There are boundaries that need to be maintained. Make sure you don't cross that line. That includes with their parents as well.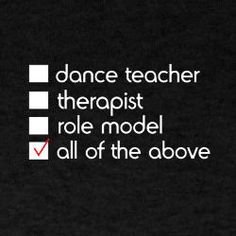 To be inspiring you must stay inspired. Keeping yourself inspired means taking the time to nourish your creative flame and exploring new teaching methods and principals. We all have our ways to teach but sometimes saying something a bit differently or changing how you do an exercise or teaching a step will create better results.
Once at a dance teacher event where we were exhibiting Dance Teacher Web, a teacher said to me one of the most tragic things I have ever heard. When I told her what Dance Teacher Web represented for dance teachers, she looked me straight in the eyes and said, "Oh, I know all of that already" I felt sorry for her and her students because she had stopped learning and her students were the ones who were going to lose out.  The reason why we developed Dance Teacher Web is so that dance teachers can easily and quickly find lesson content, choreography and creative inspiration.
Everyone is in need of inspiration whether they know it or not. There is no shame in wanting to find new ways to learn and teach. It will keep you fresh and in a good place mentally.
And that may be the biggest factor in what it takes to be a Great Dance Teacher!
Here's to your success!