With the Thanksgiving holiday upon us here in the USA it always reminds me of all that I have to be thankful for. I think that we need to reflect often on all of the wonderful things we have in our lives. Yes I know, running a business can presents challenges along the way. After 28 years in the dance studio business it is sometimes easy for us to become jaded and somewhat cynical if we don't check ourselves. If you need a reminder of how lucky you are just look around you. I see people in all kinds of trouble who I wouldn't want to trade places with.
Think about how special you are. How many lives you have positively impacted? Yes, Dance Teachers do make a BIG difference in the world. Give thanks for that special gift you were given.
Keeping yourself in a good place.
Nothing is more important than the way you think about your business and where you want it to go. We all have ups and downs and need to dig in to resolve the problems we face. It can be a downer and we need to find people who are supportive, positive and willing to help us when we need it most. No business is bullet proof and we need to always be thankful for what we have.  
More good news is on the way... believe it!
Think of everything you have to be thankful for in your business. No matter how small you may think it is, give it some thought and you may be surprised at how much you have accomplished. A lot of small things do add up to become something BIG! Think about this, if we could forget our troubles as easily as we forget our blessings, how different things would be!
Keeping your students and faculty in a good place.
Let's face it, if we surround ourselves with people who are grateful that will translate into how the environment is at our studios. I tell my students all the time how lucky they are to be able to walk, move, talk and hear! That they have parents who make the time and financial commitment to give them the gift of lessons. Many things are taken for granted until you don't have the ability to do them anymore. I like to get my students to write down the top five things they are thankful for. We know that sometimes the little and in most cases, unimportant things in life get in the way. When a mind is free of negativity great things happen. But as we know this is easier said than done!
Try this at your school!
Give your students index cards and have them write down what they are thankful for. They don't have to put their name on the card if they don't want to. Then create a wall of thanks at your studio where you will post the cards to show all of these blessings that everyone has. Then encourage your students to view the wall each day before their class over the next month. I think you will be surprised at their focus and improved happiness over this period of time. It may work so well that you will want to try it with your faculty and staff as well! As a matter of fact I think we will try that at our school with our team of teachers and I will keep you posted on the results.

Bad apples be gone!
No one is worth stealing your joy! Read that one a few times and try to live by it. That applies to any student, parent, teacher or staff member. During this time of thankfulness if you have people around who are just miserable it is time for them to change or move on. You work too hard and give so much of yourself to put up with this kind of unnecessary negative energy. We would never tolerate that nonsense. Get rid of the bad apples and you will instantly create a new environment of good vibes.
Keep in mind all those who have helped you!
 The Season of Thanks is a great time to reflect on all the people who have helped you along the way. What a great time to reach out to those people to say "Thank You!" and to let them know that you are thinking about them. As a teacher for 28 years I can tell you that it is special when you hear from a former student out of the blue who calls to say hi, reminisce and to tell you that their time at the studio was so instrumental to their success in life. Recently Angie and I went into New York City to visit our dear friend and my mentor Charles "Chuck" Kelley. It was wonderful to see him and to let him know how much he means to us. I would not be where I am today if it were not for Chuck. As a matter of fact, I would not have met my wife Angie if it were not for him. My first dancing job was as the lead dancer for a television show in Florida. The day the dancers were supposed to go down to start rehearsals the lead dancer called to say that he had broken his leg and that he was out! The choreographer called Chuck to see if he could recommend anyone and he recommended me. One of the choreographers was Angie! The rest of the story, as they say is history. I will forever be indebted to Charles Kelley for his support, love, encouragement and belief in my ability. He is family to me and I cannot tell him enough how much he means to me.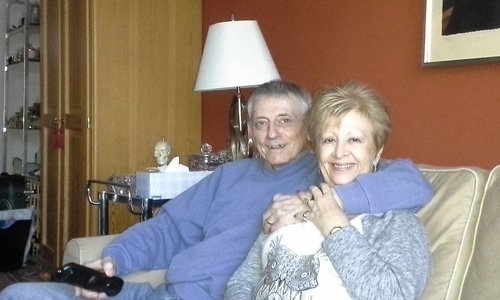 (Pictured above Angie with Charles Kelley on our visit)
In closing I want to thank you... for your support of Dance Teacher Web and for all of your good wishes. I also would like to wish you a season of incredible abundance in all you do. May an avalanche of good blessing sweep over you!
Here's to your success.