Dance Teachers, we all know that Word-Walls are a great way to inspire young dancers to learn movement and also identify and read movement vocabulary. This is an important part to nurturing dancers who are able to execute as well as articulate within the genre. It combines both the physical as well as verbal ability. Using interdisciplinary avenues to reinforce these vocaulary lessons help solidify maintaining and remembering vernacular while introducing dancers to another form of visual art......To help get you started is one example of a word wall based on a painting by Marc Chagall, "The Blue Circus."
Have the dancers study the painting and discuss it together. Talk about all the movement they see within the painting, the emotions they feel, the dynamics it resonates, etc. Add each student's recommendation to the word wall. Follow-up by then creating a "Mad-Libs" inspired Movement Sentence. Have them fill in the blanks with words from the wall and improvise or choreograph to their movement sentence. Share each dancer's creation with the class. Watch how inspiring these young choreographers are when given the opportunity to create from an interdisciplinary subject (such as art) and incorporate reading and writing as well!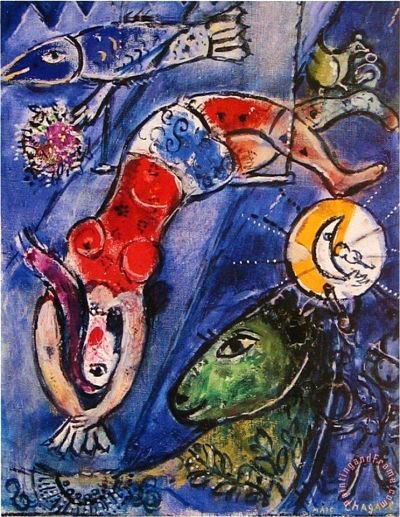 FLOAT / DIVE / SPIN / TWIRL / JUMP / WALK / RISE / SINK / TURN / ROLL / SHINE / STARE / TWIST / STRAIGHT / CURVY / BEND / SAD / LOST
And if you'd like to continue in a series of paintings with the same artist, also try "The Dance" & "The Circus Horse" by Marc Chagall.