As a dance teacher you are always giving. It is part of the job and it's in your DNA. But your energy needs to be renewed on a regular basis to stay sharp, inspired and totally invested. So, I ask you the following…
Have you ever noticed that sometimes everything feels like a struggle?
That you are pushing a boulder up a hill or swimming upstream with every task?
That creative ideas and concepts are just not coming like they use to?
Dance Teachers: You Are Not Alone!
Dance Teachers all over the world face this dilemma every day. This can often lead to the dreaded "Burnout!" when you are trying to find ideas, movement and concepts but nothing seems to work. You may feel like you are losing your "Mojo". The more life gets in the way the more you may feel like you are slipping. In today's world with issues like the pandemic, politics or it may be the death of a loved one and other life concerns that can feel like tsunami of stuff that gets in the way of your creativity and overall inner peace and drive.
Dance Studio Owner Double Down!
The dance studio owner has to also deal with all of the issues that appear when you are running a business. This can add another level of pressure that can make you feel sluggish and overwhelmed at times. From parent complaints, staff and faculty problems, managing students, ordering costumes and balancing budgets, no wonder many dance studio owners have times where their creative juices are not flowing. I once had a dance studio owner that is part of our VIP consulting program tell me that some days it was hard just to get out of bed. And she had a very successful dance studio!
The Dance Teacher Dilemma: When Your Get Up and Go, Got Up and Went!
I have seen many great teachers go through this phase. After 34 years of running a dance studio and teaching I can assure you I have also gone through periods when I questioned and second guess everything I was doing.
When I thought to myself, "Have I lost it?", "Do I really still have the passion?",  "I am bored with my stuff!" and "UGH, I'm done wih this!"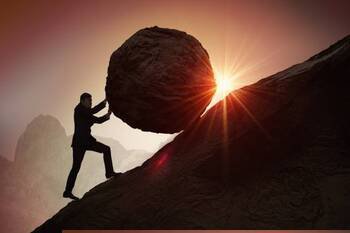 So here is how I find my way back and get going again!
1.      Get out of the studio! This one is plane and simple. Too much time at the studio can stifle your creativity both artistically and business wise. Now you don't have to go on vacation and while that sure would be nice what I have discovered is that finding other places to work on things will many times result in better solutions to issues. Maybe it is just that change of scenery that gets me going or just being away from the studio environment that helps get me back on track. The more you can give yourself a "Timeout" from dance studio life the better. Yes, you may have a business to run and classes that you must teach but finding time to check out will help you. Just find time to "Unplug"
2.      Get back to nature!  I recommend you get outside and discover natures beauty and healing powers. I like to find a place to go for a long walk that has plenty of natures beauty to look at. I also have found a little simple meditation in this environment is fantastic. I leave my phone in the car and unplug. No music, no noise, just nature and my thoughts. Just walk, breathe, relax and let your thoughts come to you. Don't try to stop them or direct them just don't harp on one thing. If you feel stress coming in just erase that thought and try to move on to another subject. There will be times you will need to do this many times a week because your life force has been taxed and your battery level is low. Try doing this at least twice a week. Plus, you will see a lot of amazing sights just by keeping your head up and finding the beauty in your surroundings that will fill your spirit with awe and make you feel more connected with the real world.
3.      Explore New Music! As dance teachers we are very often moved by music. You hear that piece of music that moves you. All of a sudden you are listening to that song over and over again. I remember years ago going to the Mega Virgin Music store down in times square in New York City and spending hours upon hours just picking up the headphones and listening to new music. What I found that exploring "World Music" I could find some really unique and different sounds. I was always inspired finding music from different cultures. It would also bring out something different in my movement and concepts for routines. I also recommend that you go back to your childhood and listen to some muisc that inspired you then. Why not do a little retro number! Today it is easier than ever to do this. I like "Spotify" because you can easily search for and save songs you like. Again get out of the studio to do this. Maybe after your long walk find a comfortable place to sit outside with a great view and turn on your music device and start listening to new music.
4.      Do something nice for yourself! As a dance teacher and or dance studio owner you are constantly giving. You are the one everyone taps into for guidance, encouragement, advice and motivation. However, you are not an endless resource. You need to go first sometimes! You need to renew your energy as well. So, take the time to do something nice for yourself. Yes, YOU need to do something nice for yourself. Don't wait for others to do it for you. I really enjoy going for a massage in a nice spa environment where I can check out and RELAX! I also like nice wine so I will find a new wine we can enjoy with a meal. I love to go to the dog park with my dog and I try to do that several times a week. Another opportunity for me to get out into nature and watch the dogs interact and play. For me it brings everything into focus and even the biggest problem seems minor after I leave the dog park with my buddy Bert.
So, there you have it. The next time you feel like your get up and go, got up and left try these life recharging ideas to get you back on track. Keep in mind that when you are always giving, sometimes, we forget about ourselves. And that can eventually be the problem. The great thing I have found is that after the recharge I have come back better and brighter. You are no where near being done. The best is yet to come. And the good news is you will be that amazing beacon of light once again!