Anyone who loves what they do for a living, at times, will experience tireless work, family sacrifices, isolation, sleep deprivation, and poor health habits. Sadly, while all of these things are happening, most likely you are also equally experiencing praise for your work, coupled with success, which makes those susceptible, even more hungry to just keep at it! Basically, the success feeds the addict!
I would be a hypocrite to try and offer words of wisdom about how to prevent it from happening; I'm honestly not capable! However, I can offer these simple tips I've learned about how to rise above it once you've found yourself completely gone, and ultimately, how to find a way to keep working passionately through every new stage of life.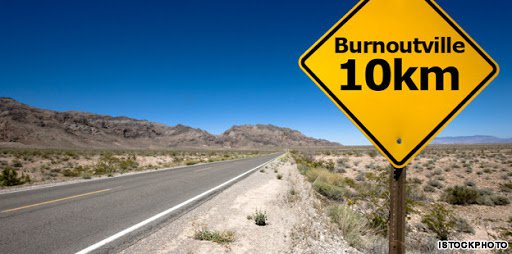 STOP- The moment you realize you've hit the bottom of the burnout pit, remove yourself from the environment. If you own a school, have another instructor cover for you, if you work for someone else, get a sub. If needed, leave the environment all together. Take a day, a week, a month, and just stop. Remember, this isn't a matter of having one bad day, week or even a few months. By the time a truly passionate individual hits burnout, it's intense and most likely has been brewing for years.
REFOCUS- Once you've been able to remove yourself from the environment or situation, a few days will go by and after the initial euphoria of finally getting a break, you may get sad. You may feel empty, and you may feel useless. After all, your passion has been your life's work, and you just walked away from the addiction! This is the perfect opportunity to refocus. Ask yourself these things:
-Yourself- What was I needing that I wasn't giving myself while I was giving so much to others? What stages of my life have I gone through, and what did I fail to adapt during those changes? Look to yourself, first, to define the turning point. When did you lose self care?
-Environment- What about the environment caused you to get this way? What are you giving to others and not getting in return? Are your efforts going to places that have no appreciation for them?
-Duration- How long have I been feeling this way? When did it start? How long have I been living in burnout? What was the final straw?
REINVENT- This is my favorite part. If you made it through the stop and refocus phase, here is the reward! Reinvent yourself! Most likely, sitting still will never be an option for you. The key is, being able to listen to your intuition and find ways to satisfy your need to fulfill your work passion in every stage of your life. What you need, and what you are meant to do, will change as life changes you! Embrace the change, don't fight it! Your work ethic and knowledge will make you successful in anything you do. To enjoy it, the timing has to be right. Don't stop the work; reinvent your work in a new project or different environment that suits your personal needs, better.
So many of us are servants to the art of teaching dance. We are all guilty of lacking boundaries and working through exhaustion. Don't be afraid to stop, refocus, and reinvent!