Studio directors, who you choose to hire to be part of your studio family says a lot about the tone you set for your business and the kind of training being offered. I've seen many directors go through massive teacher turn-over year after year and can't figure out why they can't seem to find a consistent staff who "gets" what the studio's mission is and comply to it. While you might not fully know someone's teaching style and whether they are a good fit for your studio until they're teaching week after week, consider some of these things during the hiring process so you have a mental checklist of what you are ultimately looking for.
> What is my studio's mission? Are you a training facility, a recreational based studio, etc? Being clear on the type of business you run will help to bring in teachers who understand your vision from the jump and whether it is a place of employment they are going to be happy working in. Conversely, you will be able to get a sense as well as to whether this applicant's qualifications are a good match for your studio and your students.
> What are the criteria I'm looking for in a potential teacher? Prioritize your must-haves and requirements that you deem important for your students…Must your teachers have professional performance experience? A teaching or dance degree? A certain number of years teaching professionally? Do you prefer them to be currently auditioning or finished with their performance career; as to not pick up and leave to go on tour in the middle of a season? Or, are you equipped to deal with that occurrence? Do you prefer teachers who are specialized in only one genre or can teach multiple idioms? Are you looking to hire teachers that only live locally or are willing to pay for their transportation to hire those living further away? Do you require your teacher to have a certain caliber of choreographic ability or are they strictly technique teachers?
>  What kind of applicant will compliment your current faculty? Think about the staff you currently have and why it makes for such a great team. Is it important for you to hire a similar type of personality to your other teachers, or is there a certain quality you would like to see in your new hire? Is it important for you to offer alternative teaching styles to your students; providing variety in their training curriculum?
>  How will you interview? First, consider whether you prefer only to accept applicant referrals from other teachers/ industry people's opinions you trust. This might narrow the hiring pool for you and limit selection but it might also streamline more qualified candidates. Ask for a current resume and bio. Think about whether seeing a choreography reel is important to you. Will you hire them to teach a class as an interview and observe them yourself, or have an assistant or a couple of the senior company members give feedback to you afterwards? Would you like to see the candidate teach both an advanced and children's beginner class?
> Extras….some other details you might ask yourself: Is there a dress code you expect your teachers to follow? Are there certain events and dates you will require attendance for? Are there costume and choreography deadlines you want to disclose to the teacher as well at the time of interview? How important is it to you that parents like the teacher's personality? Do you have a set pay rate for all your teachers or is salary negotiable? What are the questions, expectations and concerns the interviewee has for you? What are your deal breakers?
Organizing your thoughts and criteria is an efficient way to get off on the right foot in terms of hiring. The more consistent and clear you are in your own mind about what your expectations are for faculty, the easier the hiring process will be all around! Soon enough you will be bringing in another great member to your studio family!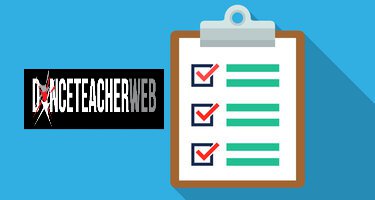 Join our Community of Dance Educators By
Get instant access to 1000+ videos including full length master classes, "How To" teacher training tips, Choreography with break downs and 100's of lesson plans and teacher enhancement articles
We offer dance studio owners the ultimate toolkit with business building articles, videos and downloadable forms. Topics include help with marketing, increasing revenue and improving communication.
Our Studio Owners VIP consulting services offer one-on-one coaching for a more hands on approach to your business development. Inspiration is only a click away!