This is a follow up article to the "Sometimes You Don't Have All the Answers, and That's Ok!"
I recommend that you read that article as well because both articles work well together and will help you when you are hit with a crisis.
So, let's look at a few problems that may occur and a simple three step plan to resolve the issue
Problem: Parent is angry because of (fill in the blank!)
When you first learn of the problem make yourself prepared for what may be coming. Set up a time to meet face to face ONLY after you have had a chance to review what has happened. If they barge in demanding answers make sure to let them know that you are taking their complaint seriously but you need time to find out all the details. I would recommend not meeting with anyone who comes in mad or at night when you are tired. I know everyone likes to text and email but I recommend that you do it the old fashion way, face to face. Text and emails go on and on and they don't convey the personal side.
Gather up all the information. Write down everything. Then take the time to find the best solutions. You may even want to bounce your ideas or get help for answers from someone who you trust and know that their input is going to be helpful. Answers can and may have to be fluid. Once you have a plan be prepared to be flexible.
Call the parent in a timely manner. Don't let this go on for days on end. While time is your friend it can turn quickly if you let this feaster to long. I HIGHLY recommend that you try to have this meeting during off hours preferable before classes start in a private area and hold it to a maximum time of 15 minutes long. After that time have someone knock on the door where you are meeting to inform you that your next appointment has arrived or your conference call is on the phone, I know you may not have one but this will assure you that this will not go on for too long. Get to the point and explain your decision succinctly. During the meeting, don't talk too much, mostly listen especially after you talk and be prepared to have more then one solution if possible. It will show your flexibility and understanding. Don't let the parent take over and if you cannot come to a mutual agreed solution. Then ask them to come back. After that If there is still no progress, depending on the problem, you may want to ask them to leave your school. You don't need an ongoing problem or bad apple.
Problem: Your teacher or staff member is (always late, insubordinate or anything else)
Arrange a time to meet with them. Tell them that a serious issue has come up that needs to be addressed. If they ask what it is explain to them that you need quiet time so you would appreciate them setting up a mutually agreed upon day and time.
Figure out the best way to solve the issue. Remember one size does not fit all. If you know what makes them tick, try to find ways with your words and solutions to hit those hot topics that you know are important to them. Your solutions need to always have give and take. While you may need to stick to your guns and some things have no wiggle room there will be other issues that do as long as you are getting what you need and want. Yes, they work for you and yes, you are paying them and yes, they should just do as you request but the world doesn't always work that way. If you can talk to a mentor or other business owner that would be helpful as long as it doesn't turn into a venting session. You want solutions not a complain fest!
During the meeting, if they are hurting your business or their reputation don't be afraid to let them know that. Just like all meetings set an end time. I am a big believer in shorter is better. I have found that the 15-minute rule works really well. The longer you go the less effective your words and ideas will be. Get to the point, nicely but be direct. Once the issue is out on the table explain that you have some ideas on how to fix the problem and encourage them to give you input into the best solution. People love to give their input, this way they can feel like the solution is mostly their idea. Who cares as long as you get what you want? The problem to be solved… pronto! Follow up by giving them a letter reviewing what was discussed and the solution that was agreed upon.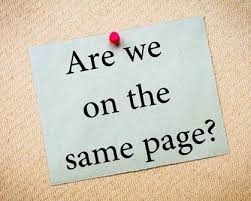 Problem: Your landlord is not fixing something, won't work with you or you are the problem!
Send them a certified letter that explains the issue you are having and that you are requesting a meeting to come up with the best solution. If you do not hear from them in a week give them a follow up call and if still do not hear from them send the letter again. I recommend that you do not just discuss this over the phone. Face to face is best. Even if the issue is one you are having like you owe them rent and don't have all the money right now. No matter what you are facing if you act first you already are in the driver seat. He, or she who acts first usually wins!
Spend time figuring out what you need, want or can do before you meet. Explain that whatever is happening is very important to you, the health of your business and that you are eager to work things out. Keep in mind they are business people as well. You may be dealing with a corporation but there is someone who is "In Charge", you just need to find out who that is. I recommend that you get advice if this is a serious issue. Once again you are looking for solutions, not to share bad landlord stories.
Depending on what is being discussed you may need a bit more time for this kind of meeting but short meetings will always be winners… ALWAYS! Get to the point, have ideas for solutions and then encourage them to give you input. Take copious notes and refer to them during the meeting. Doing so will make you a shinning star and show that you are on the ball. If you have a long track record with them point that out and remind them of the fact that you have been a great tenant for X number of years. Once you come to an agreement, GET IT IN WRITING! If after you meet, still no luck then try to get them to agree to meet again because you need time to figure out an alternate plan. Always keep in mind that if plan A doesn't work there are 25 other letters in the alphabet!
One last word of advice… Stay calm, breath and try (I know this is VERY hard sometimes) but try not to take it too personally. Business decisions are best made in a relaxed and unforced manner. Also, right before you go in to your meeting, smile (privately) and say or think to yourself "I've Got This!" three times. But don't stop there. Really feel it, believe it and think it!
Are You Looking for A Business Consultant or Mentor?
If you are looking for business consulting and mentoring, I suggest you take a look at joining our VIP Studio Owner Program. This unique and progressive program offers a select group of studio owners a hands-on approach to problem solving, business development and goal realization. Members enjoy monthly consulting calls as well as full access to all areas of the website. To see if you qualify or for more information please call me directly at 203-545-7167 or become a VIP Member by upgrading your subscription by CLICKING HERE!