I made that all caps because I really want you to believe in the value of what you are doing. Whether it is in-studio or virtual lessons your students are taking at home. Recently,  my wife Angie had a doctor's appointment that was done virtually. Do you think the Dr. charged any less for that appointment? She did not and neither should you!
You and your team offer a service that entails having expertise just like any other profession. Your customers value that expertise that is why they have chosen you to provide their child's arts education. 
I can assure you that at our studio we have been charging full price right from the day we closed the studio. The first two weeks we were only offering videos from the website www.myonlinedanceteacher.com which are now a bonus for our students and we then transitioned to zoom classes. We are doing the full schedule. And you know what? Only a couple of our students have dropped out primarily because they were pre- school age and their parents felt that their households had too many distractions for them to focus on class.
As a matter of fact, we have had several students who in addition to taking their regularly scheduled classes, have also signed up for private lessons and are paying extra for those lessons. We also offer private music lessons at our studio and during this difficult time have added ten students from our current student base who are now studying voice, piano or guitar.
So, the question is, how do you define value? can you measure it? What are your online classes actually worth to your customers? Remarkably, most people think those classes have the same value that they do at your studio unless we, the business providing the service, tells them otherwise. And yet the ability to pinpoint the value of a product or service for one's customers has never been more important. If you believe your virtual lessons are valuable and you can show your parents how this new type of learning is helping their child not only to improve their dance skills but also to stay connected with you their teacher and their friends. By providing the classes it is helping their child to mentally get through this time, you can and should be charging for providing that kind of life service!
All Studio owners feel compassionate towards our families and students but keep in mind that the parents want your studio to be there to serve the community when the lock down is over. Look I understand that these are challenging times financially for everyone but doctors, lawyers, plumbers, landscapers and more are charging for their expertise and services… So why wouldn't you?
You are afterall a business and a buisness needs revenue to survive and thrive!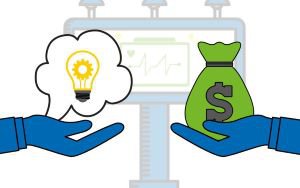 Added Value:
Here are some ideas that we have provided. Free Sunday Master Classes. There are many great teachers out there looking for work. We have provided several of these and they are a big hit. You can even tap into some of your alumnus to see if they would be interested in teaching virtually for you. This month we will be rolling out phase II of these master classes, where we will be offering them for an additional fee. Our parents have also expressed an interest in private lessons with these guest teachers, There will be an extra add on fee that they are willing to pay for!
These special classes have created such a great response from the parents and they have been very appreciative of the effort that has gone into providing them. We had one parent call us last week to ask if she could to pay the remainder of her bill, which was several thousand dollars right away and forgo the payment plan she had agreed to, because she we so happy with what we were doing. Of course, we said yes and THANK YOU!
Here is something else to consider. Through the years there are several things I have learned about our customers and I am pretty sure it will apply to yours as well. People value what you have to offer when you value what you are offering. Also, I have found that people can afford most of what they want, when they really want it! Both of those are very true statements.
So, if you are not charging for these lessons, I recommend you figure out a way to pivot and offer online dance lesson that you can charge for. Remember we have no idea how long this is going to last! It is very important to find ways to make these classes viable and valuable, then you can start charging. Maybe you can start with privates, then add on other lessons and see who you can get to pay for them. I am pretty sure many of your customers will pay if you show them the value in these lessons.
What you do is amazing!
You deserve to get paid for all you do. Believe that in your soul and watch what happens next!
By the way, did you know your studio can join this FREE service? If you have not yet registered for MyOnlineDanceTeacher please do it today by clicking on the image below. Again, this is something that you can show your customers that you are adding to your students training. They don't know our arrangement and we won't tell them!
Here's to your success!