Do you have a plan in place to actively solicit referrals? If not, you are losing out on this incredible money making tool for your business.
I think most studio owners will agree that word of mouth advertising is one of the best ways to increase your bottom line. The problem is that most do not actively pursue this great marketing ploy.
How can you actively get your referrals going?
Here are some quick tips to get your word of mouth advertising
Create WOW moments to get your students and parents talking.
Flip that class or try any class for a week! If you have several classes going on at one time you can try "Flip That Class!". Rotate the classes every 20 minutes. Just make sure your faculty understands that the classes need to be fun, fast paced and without any rehearsing of numbers. We have had many students who were not taking a certain style sign up for the class that they tried after trying it out in this casual way.
Customer appreciation day - Year end barbecue and get together. We do a big barbecue every year at the end of the semester where we celebrate our customers and give them an outside party at no charge to them. If you have  some kind of open property or a parking lot next to your studio even better. We do and have a party outside on a Sunday with dancing, food and more! Try it to create a buzz in your community
Do a survey and offer a prize for the winning new idea you use. This is a terrific way to get feedback about your program and to get some great ideas you may have not thought of. Our customers love this because they get a voice and are eager to share their thoughts with you. If you get some bad feedback don't fret, use that info to get better. Customers love that you care about their opinions and will talk about that.
Offer a special discount to all referrals for the spring- See Below!
The 50/50 Referral Program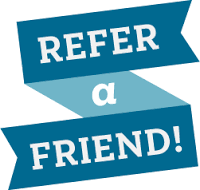 Here is how our 50/50 program works. For every new customer that brings in a referral coupon when they sign up they and the person that has given them the coupon will receive a $50.00 family discount.
Here is how we implement this program. We send out a letter to our current customers explaining how the program works. They are instructed to put their name on the four coupons we send out to them and to give them to their friends whose kids may be interested in trying out a class. When the new student's parents sign up and pay for their class they can apply their $50.00 coupon and the current customers account will be credited with the $50.00. If all 4 coupons are brought in the current customer will receive a $200.00 credit. In the letter, they are also told that if they want more coupons then they should contact the studio so that we can either give them more in person or send them out to them.
I will do this kind of marketing all-day long! Why you might ask? Because you ONLY pay when the new customer pays. I really like that kind of advertising and I highly recommend that you should try it too.
Let's crunch some numbers:
For every 10 people who sign up your cost is $1000.00
10 x 100=$1000.00
20 x 100 = $2000.00
and so on
Here is an example from our studio:
10 New customers taking one class a week
10 x $799 = $7999.00 - $1000.00 Expenses = $6999.00 profit
Promotion from 2020 Campaign 
47 x $799 = $37553.00 - $4700.00 Expenses = $32,853.00 profit
Plus, additional classes signed up for $17,980 + $32,853.00 = $50,833.00 Profit
So now you can see why I am so excited about this kind of advertising. If you are looking to increase studio profits I highly recommend that you implement this at your school as soon as possible.
To see or to download the forms and letter we use for this promotion CLICK HERE
NOT A MEMBER? CLICK HERE TO ACTIVATE YOUR MEMBERSHIP SO THAT YOU CAN CONTINUE TO EXPLORE MORE GREAT CONTENT