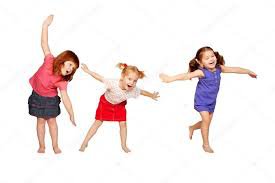 Here's a wonderful lesson plan for your beginner students which is fun, encourages creativity, literacy, free-movement and choreographic voice. See below for progressions for older & more advanced students as well!
Lesson Goal: Have dancers select 3 movements from Group A, 3 choreographic devices/ directions from Group B and 1 emotion from Group C to create their own movement sentence. Have them improvise and/or choreograph their selections with the designated emotion& perform in solos, duets, trio or large groups!
Lesson Progression Ideas:
Add more selections to each category.
Add more advanced selections to each category for older dancers.
Have dancers vary emotions throughout a longer movement phrase.
Have dancers learn each other's phrases to build longer works.
Have dancers retrograde their movement sentences.
Vary music by randomly selecting songs each time dancer performs.
GROUP A:
run
walk
skip
crawl
hop
float
slither
melt
twist
gallop
slide
march
kick
sit
swing
twirl
spiral
GROUP B:
Stop
Pause for 5 seconds & start over
Change levels
Change directions
Repeat last step & keep going
Face backwards
Clap twice
Snap 3 times
Travel a circular path
Travel in a diagonal
Travel in a zig-zag
Move slowly
Move quickly
Move fluidly
Move sharply
GROUP C:
happy
sad
mad
silly
sleepy
curious
loved
serious
disappointed
excited
shy
mellow
mischievous
grouchy
surprised
frightened
                   funny                  
Did You Know?  That Dance Teacher Web 3.0 is now the LARGEST online resource for dance teachers and studio owners with 900+ videos, 100's of articles and lesson plans to help you stay current and creative all year long. For the busy Dance Studio Owner, we offer fantastic articles on topics like Marketing, How To get more students and Increase revenue, Business building seminars, Downloadable manuals, Sample ads and Forms to help you take your business to the next level.
Think of us as your virtual Dance Teacher Conference.
Not yet a member? CLICK HERE to start your FREE 14-day Full Access Trial Today!